Since June, we have been continuously reminded of the fight for equality and the responsibility that arts organizations have to hold space for diverse representation within their venues, communities and organizations. Over the last months, we saw many organizations publicly commit themselves to diversity, equity, and inclusion.
The challenge can be figuring out what is next.
In order for arts organizations to authentically and effectively engage with a multicultural audience, arts leaders have an opportunity to drive diversity within their staffing and leadership, performances, storytellers, and audiences. The Association of National Advertisers' Alliance for Inclusive Multicultural Marketing found that the top advertisers in the U.S. currently spend less than 1 percent of budgets to reach multicultural audiences. This number is surprising considering that 39.6% of the population is considered non-White according to the US Census Bureau. So, even statistically, it makes sense for companies to expand their reach to speak to a wider, more inclusive audience.
However, it can be daunting to find the right diversity and inclusion initiatives for your organization to focus on. No matter where your organization is starting, either from scratch or with years of experience building out diversity and inclusion practices, the foundation for improvement requires an ongoing dedication to learning, listening, and consistently taking steps forward. From there, identifying opportunities to have conversations around inclusion can help build out a consistent practice. As your organization continues to develop strategies for diversity and inclusion, here are 5 areas for arts organizations to focus on.
1. Hiring. One of the best places to start is by making sure your organization reflects your community.
Looking at the leadership and staff within your organization can help you identify areas of opportunity for hiring more diverse perspectives. It is crucial to look at every area of your organization with a multicultural lens; from recruiting to retaining and developing talent and even one step further, developing KPIs and holding the organization accountable to these diversity KPIs and initiatives. Having diverse staff, behind the scenes, can help influence more inclusive casting, programming, and help promote more visible diversity on stage.
What do diverse hiring practices look like? It's important to look at the root cause of the lack of diversity, and not just the symptoms of it. We encourage you to look into Implicit Bias Tests to identify any unconscious biases as you are looking for candidates for open roles. When doing an initial screening of candidates, try a blind recruitment process that removes all identification details from resumes and applications to help your hiring team evaluate candidates on skill and experience instead of extraneous factors that can cause biased decisions. In order to successfully implement other initiatives such as diverse casting and storytelling, your organizations must bring in leaders with unique perspectives and experiences to spotlight areas that could use more representation.
Take Action: Challenge your recruiting and hiring managers to include people with different backgrounds or experiences when hiring open roles. To help engage with top talent, you may speak with community organizations that advocate for diversity for referrals or recommendations on where to get started or by speaking to your existing employees for referrals.
2. Casting. After reaching a record high in the 2015-16 Broadway season, due in large part to Hamilton, the 2016-17 season experienced a drop in representation for BIPOC characters from 36% to 29%. Through Hamilton, we could see the power of how an inclusive casts and storytelling perspective can drive engagement with diverse audiences. If you want more diverse audiences, cast diverse actors and actresses who represent those you want to reach. However, it's important to not only look at casting, but also other opportunities to bring diversity into your performance – for example the orchestra, the director, etc. Think beyond what is just represented on stage, but also who is representing your organization.
The graph on the right demonstrates the inequality in representation in Broadway shows in the 2014-15 season. It's clear that there needs to be more representation in the fine arts for many reasons, but especially as the goal of the arts is to inspire its audience. There's "No reason you can't have an Asian Belle or a Black Roxie Hart." When casting your actors, consider challenging your thoughts on whether or not the race, ability, age, or sex of the actor is important to your characters. If these factors are necessary to choosing an actor, consider if it is because the character represents a specific stereotype.
The last thing you want to do is put non-white performers in roles that are one-dimensional or stereotyped. Diverse audiences will embrace more dynamic and complex character representation. It's not enough to only include BIPOC in productions, but also to ensure that the characters are not promoting harmful or damaging caricatures or tokenism.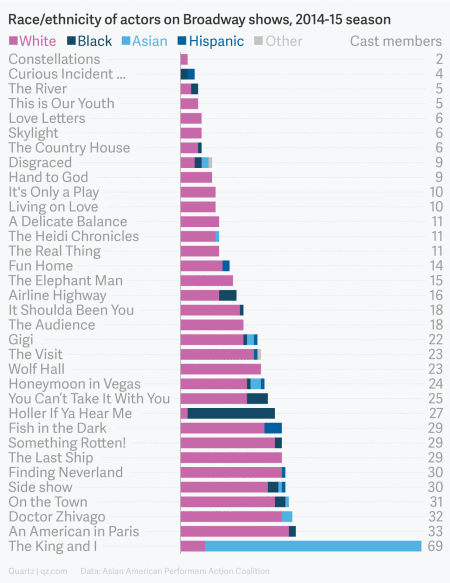 Image from: Quartz
Take Action: Consider engaging in "non-traditional casting". According to the Washington Post, non-traditional casting is "the use of actors of any race, sex, ethnic background, or degree of disability in roles for which such factors are not germane to the development of stage characters or the play." Work with organizations such as Asian-American Performers Action Coalition or the African-American Artists Alliance to partner with them to find more diverse actors or to collaborate on initiatives that will diversify your organization. Prior to calling in any actors, have a conversation with your team on the necessity for the character to be played by someone of a specific race, gender, nationality, ability, etc. The conversation itself can spur some great ideas and new perspectives.
3. Programming. One way to ensure inclusion and reach underrepresented audiences in your community is to allow them to tell their stories. Welcome BIPOC storytellers to share their stories and reach out to BIPOC directors to provide their perspective with your audiences.
There are plenty of stories to be told that are written by Black playwrights that should be heard. Onstage blog recommends to start with productions that require minimum BIPOC casting, but still have BIPOC roles that are not just "window-dressing", but instead lend a hand to the story at hand. This is a way to get started in introducing more BIPOC roles into your theatre without it seeming forced. With this, your organization is able to open your doors to more BIPOC actors/actresses.
Take Action: Analyze where your organization is at. If your organization has a history of putting on diverse shows, continue to do so and also look into where you can further push BIPOC actors into larger roles and productions. If your organization historically doesn't have the best representation, look into easing yourself in the right direction with productions that have meaningful and complex roles for BIPOC actors.
4. Marketing and Budget: Your community may have more diverse representation within it then your patron profile and there is an opportunity to be more strategic with your marketing efforts and budget to reach audiences you previously missed. If your goal is to reach a larger audience, consider allocating a portion of your marketing budget to reach different audience types. Having this dedicated budget will enable you to tap reach more diverse communities that previously felt the arts weren't accessible to them.
Take Action: One area to start with can be your marketing materials. Make sure your marketing materials are representing diverse audiences and performers. You can also plan on some specific community outreach through email or social media directed at the diverse community you want to attract. It can even extend to your paid media efforts. We work with many clients who set aside a percentage of their media budget specifically for outreach to diverse communities. When you do allocate specific budget for these kinds of efforts, take into consideration what your KPIs should be. They may not still be ROAS, but instead looking at if your representation in audience members are increasing, if your age demographic is growing wider, etc
Also, analyzing your audience can be another impactful way to see if there is opportunity for more inclusion. Understanding your existing audience profile, can help you identify gaps in other groups you may want to reach out to.
By addressing your marketing materials, your budget allocation strategy, and your audience profile, you will be able to develop actionable steps towards driving inclusivity.
5. Learning and Growth: This journey will not be immediate. There will always be ways to champion diversity within your organization. However, it's important to commit to learning and staying educated in order to continue the momentum of representation in your organization. This can spark conversations within your organization on new ideas or approaches on how to drive equity, inclusion and diversity in your organization. We understand that not everything can be done at once, but it's important to look at the small changes that can be made starting now. An easy way to start these conversations is through asking questions regarding diversity within your organization members. Starting conversations will help drive your organization in the right direction.
Take Action: Initiate set meetings biweekly or monthly to discuss with the members of your organization how you can continue to have more representation on-stage and off-stage. By having these conversations you open the floor for people in your organization to speak up on other ways to drive change. Additionally, bringing in speakers to your organization who can bring new ideas from an outside perspective, can help keep this conversation a key priority for your organization.
At the end of the day, the arts were created to reflect our lives and that includes representing those from diverse backgrounds and perspectives.Though these are five ways to get started in addressing diversity in your organization, it is an ongoing journey. Making small steps forward and having continued commitment is crucial to the success of these initiatives and we encourage you to continue finding new opportunities to incorporate diversity into your organization.