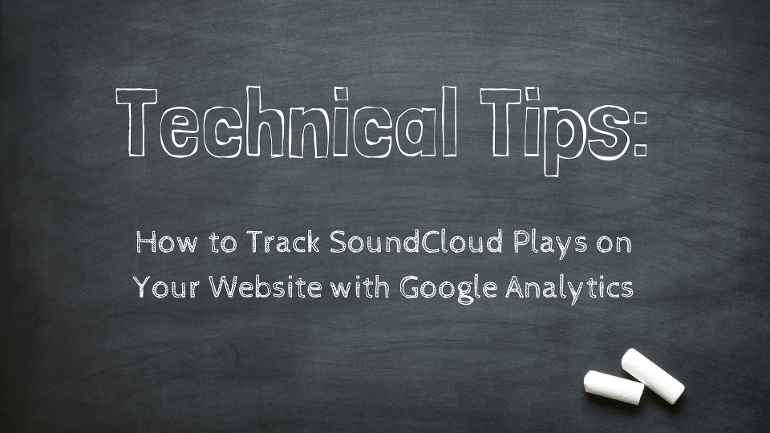 More and more websites are taking advantage of SoundCloud by embedding the SoundCloud files from live concerts and podcasts onto their websites.  SoundCloud is an especially useful site/app for those in the arts and entertainment business. It allows your site visitors to listen to high quality audio recordings that showcase your events and/or artists.
Like any smart marketer, you have a host of questions about these site visitors who are engaging with SoundCloud audio files:
Are they loyal patrons, or do they tend to skew more heavily to new visitors?  
Does this user segment show a higher propensity to sign up on the email list, buy tickets, or make a donation?  
What are the behavioral nuances we can discover about SoundCloud consumption, and how could we use that to inform our marketing strategy?  
We could add literally dozens of questions to this list, but the one question that we should always strive to answer, is whether or not the activity at hand provides a positive economic benefit– or, in laymans terms, does the activity generate positive cashflow for your organization?
Enter Google Analytics   

If your site has a blog, or any embedded media files like Soundcloud or Youtube, and if you're not already tracking and segmenting these audiences in Google Analytics, you need to start doing this like yesterday! We've created a short 10-minute video guide that will show you How to set up custom event tracking for embedded Soundcloud files on your site.  The setup does require that you have Google Tag Manager installed on your website.
I'm Tracking Custom SoundCloud events in Google Analytics, Now What?  
There are millions of ways you can slice, dice, filter, and manipulate your Google Analytics data.  The list below should is but a starting point that should help you answer the question: What is the economic value associated with a SoundCloud play on my website?
Create a Custom SoundCloud Segment
Quite simply, this is one of the easiest things you can do.  I've included the instructions on how to create a new SoundCloud segment in Google Analytics at the bottom of this section.  Once you've created the segment, you can make a ton of comparisons to the All Users segment.  I recommend that you check your data to see how these metrics vary by segment:
Bounce rate
New vs returning visitors
eCommerce conversion rate  (YES, check this one!)
Once you have enough data, I'd also recommend digging deeper into Google's eCommerce reports.We want to see if we can uncover additional insights about the SoundCloud audience segment such as:
How do their buying behaviors differ from other buyers?
Are they more likely to buy single tickets or subscriptions?
Do they make donations at greater or lesser rates than other users, and is there a notable difference in donation size and frequency?
Create a new segment with the following selections:
Select Advanced Conditions from the sidebar
Change the filter level to Users   
Select Event Category from the toggle down, and set to contains "SoundCloud"

Logged In Users
This section applies to those of you that have eCommerce tracking setup, with User ID tracking implemented.  Google Analytics' User ID Tracking allows us to segment those users which have identified themselves by logging into your site.  Now let's make our way to the User-ID Coverage report.  With our two segments selected (All Users and SoundCloud Users), we can compare how these segments differ by account logins.  For example, does the SoundCloud Users segment exhibit a higher percentage of Assigned User-IDs compared to All Users?  This would tell us that your SoundCloud listeners tend to skew towards current/returning customers.  If the SoundCloud Users segment has a higher percentage of Unassigned Users than All Users, this would likely tell us this particular segment tends to skew more heavily towards non-customers, or soon-to-be first time buyers.
If you're going to invest the time to setup SoundCloud event tracking, you need to be equally setting aside the necessary time for analyzing your data.  The analysis recommendations contained in this article should be considered starting points for your own deeper level analysis.
Video Walkthrough
Be sure to download the corresponding documents when you're ready to implement the tracking on your site: